10 Women Justin Bieber Will Date In 2016
10. Madison Beer
Madison Beer and Justin are actually really good friends. However, Justin Bieber is the ultimate flirt which is probably why we are always suspicious if he is dating that particular girl. With that being said, Justin and Madison were seen getting cozy together at a restaurant last year. Bieber was seen doing his thing for the meantime in a video Madison posted and gave a small performance during their dinner. The two have been linked together in the past but both denied the allegations. However, their ongoing selfies together makes us think otherwise. Even though their photos say something else, their reps say Justin is just her mentor for her up and coming singing career and overall, she's like a little sister to him. With the way Justin loves to flirt, anything can change.
9. Ariana Grande
Things started heating up between Ariana Grande and Justin when the two singers collaborated on stage and of course the Biebs was getting cozy with Grande in front of everyone. He even posted a pic of them while performing a duet together. It is no question that both of these singers are great on stage but what about off stage? Of course, everyone was going crazy when they got together during Grande's concert, especially when she was still dating Big Sean at the time. It looked like that didn't keep Justin's hands off of Ariana. The two are good friends but considering how Justin was getting really touchy with the "Love Me Harder" singer, it makes us think that he could possibly have a secret crush on her which could lead to something more than "just friends."
8. Chantel Jeffries
This model was first seen with Bieber when he got into that drag racing and DUI incident back in 2014. Chantel Jeffries was in the front seat so rumors quickly spread that the two might have had a thing with each other. The 21-year-old and the singer were linked for a minute but there was nothing else be excited about between the teens.
7. Natalia Skye
That brings us to Chantel's almost identical cousin, Natalia Skye. This Moroccan and Vietnamese beauty caught our eyes when she snapped this photo of her and Justin extremely close to each other, with his arm touching her waist while both seductively stick out their tongue, causing a sensual moment in the photo. The photo was obviously too much to handle but the Instagram personality took it to her caption before any speculation was bound to spread. She wrote "Just Friends" in her caption, although, it really didn't look like it in the picture.
6. Jayde Pierce
His "new girlfriend" was heard all around when rumors between Jayde Pierce and Justin started taking over. The first time the world heard about this Pierce girl was when she accompanied the "Baby" singer on a trip to Bora-Bora and basically got to witness a naked Justin when he posted a nude pic of himself. If you follow Justin on Instagram, the 21-year-old loves to post his vacations for his Beliebers to watch which is where the model was first linked to Bieber. The two were seen awfully comfortable with each other all over social media through the trip. It was obvious the model was his love interest for the getaway which again leads us to think there could possibly be something more in the future, especially considering how drop dead gorgeous the UK-based model is.
5. Yovanna Ventura
Yovanna Ventura is an Instagram fitspo model. The 20-year-old was linked to Justin after breaking it off with ex-girlfriend, Selena Gomez. The two were on and off for a while making everyone wondering what was going on between these two. Justin did showcase her on Instagram a few times and so did she. So it was obvious that these two were an item but the fact that they would always go back and forth with each other, no matter who Justin was linked to, makes us think there is a possibility that they will rekindle their steamy romance. Plus, it doesn't hurt that the brunette beauty is popular on social media for her noticeably sexy figure and famous behind.
4. Kylie Jenner
This one is less of a possibility considering how Kylie Jenner seems to be a hundred percent committed to her on again, off again boyfriend, Tyga. Plus, the two have been open about their friendship and are long-time friends. However, never say never. The fact that Kylie partied with Justin along with rapper, A$AP Rocky, post-split from Tyga back in November, means Kylie might consider the "Where Are You Now" singer as a possible rebound. The two were partying all night from dinner at The Nice Guy in Los Angeles to Hyde Sunset. They are both young, rich and super famous so why not get together already and make us all incredibly jealous.
3. Cindy Kimberly
The world went crazy when Justin posted this photo of this beauty and asked his followers to tell him who this was in December. He captioned the photo, "Omg who is this!!" Not only did this post reveal Justin's taste, but it also made us all envy him by having such awesome followers, who went out on the mission and found his Instagram crush. It turned out to be Cindy Kimberly, who was overwhelmed by all the attention she was getting from all the Beliebers. As soon as the wanted beauty was found, she posted a photo of just the color, pink, and captioned "I so do not know how to deal with this but I only have instagram (I did use to have a twitter account but I deactivated) Edit: I just deleted my tumblr and someone took my old url New edit: i just came back on twitter as @/notwolfiecindy lmao." It obviously gave the brunette some anxiety as she clearly didn't know what to do with the situation.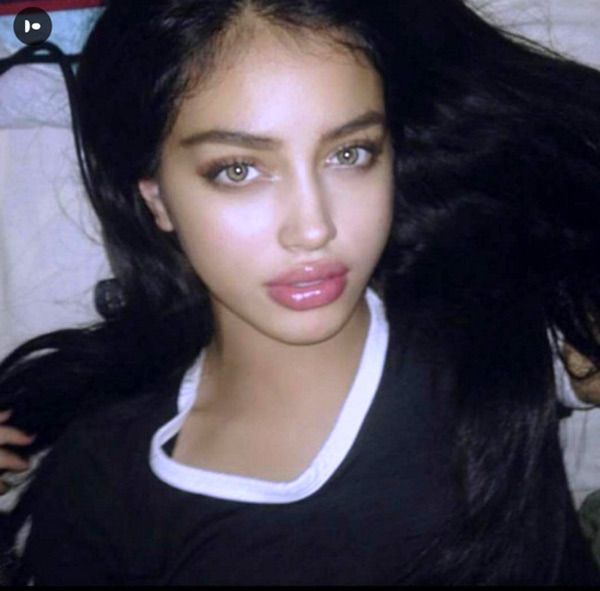 2. Kourtney Kardashian
It was one of the weirdest "hook-ups" we have seen in a while when Kourtney Kardashian and Justin Bieber were spotted out and about on several occasions. First, we saw them out together, in what appeared just the two of them, at Universal Studios back in October. Kourtney was just fresh out of her controversial relationship with Scott Disick and looking incredible ever since the break-up. With all the photos of the two hanging out and the current situation of the Kardashian, it only made us wonder, could this be? Were Kourtney and Justin secretly hooking up? It all sounded kind of ridiculous until later in December, they were caught again hanging out! This time, it was after midnight at his hotel. She was by herself so it all was just too obvious to deny. The rumors of the two hooking up were stirring so much that at this point, they're true.
1. Kendall Jenner
The thing between Kendall Jenner and Justin Bieber looks very similar to the one that Justin has with his new girl, Hailey Baldwin, which is why Jenner is on this list. Check it out. First and foremost, the three are really close friends. Bieber and Baldwin have always claimed they were "just friends" but rumors were always on top of these two considering all the photos they were seen in together. From paparazzi shots to their own Instagram profiles, the idea of them hooking up was always up in the air and turns out, the rumors were true.