20 Shocking Scandals That Brought Down Renowned Politicians
20. Rob Ford
Toronto mayor Rob Ford was caught red-handed in a drug scandal involving crack-cocaine. First a video surfaced online in May 2013 in which Ford was reportedly smoking cocaine. More videos surfaced and more people stepped forward to voice their personal accounts on Ford's involvement in the drug trade. Ford tried to cover it up but leaked the location of his crack houses (smooth move, Ford.) Then, the public got involved and started donating to a crowd-sourcing website to get the $200,000 needed to release the video of the mayor smoking cocaine. The police started to take this seriously, while comedic late-night shows poked fun. What a ride!
19. Vance McCallister
Politician Vance McCallister was lucky that his wife was faithful and understanding enough to stick by his side as he dealt with a huge kissing scandal. You see, McCallister was supposedly happily married, but he was caught on camera snogging with one of his female staffers. Oops. His wife even appeared in a commercial that aired on television in which she said that McCallister was actually a decent human being and a devoted husband. McCallister, who is a Republican from Louisiana, was hit with labels such as "hypocrite" for deeming himself a conservative and then being caught in the act of kissing one of his own staffers.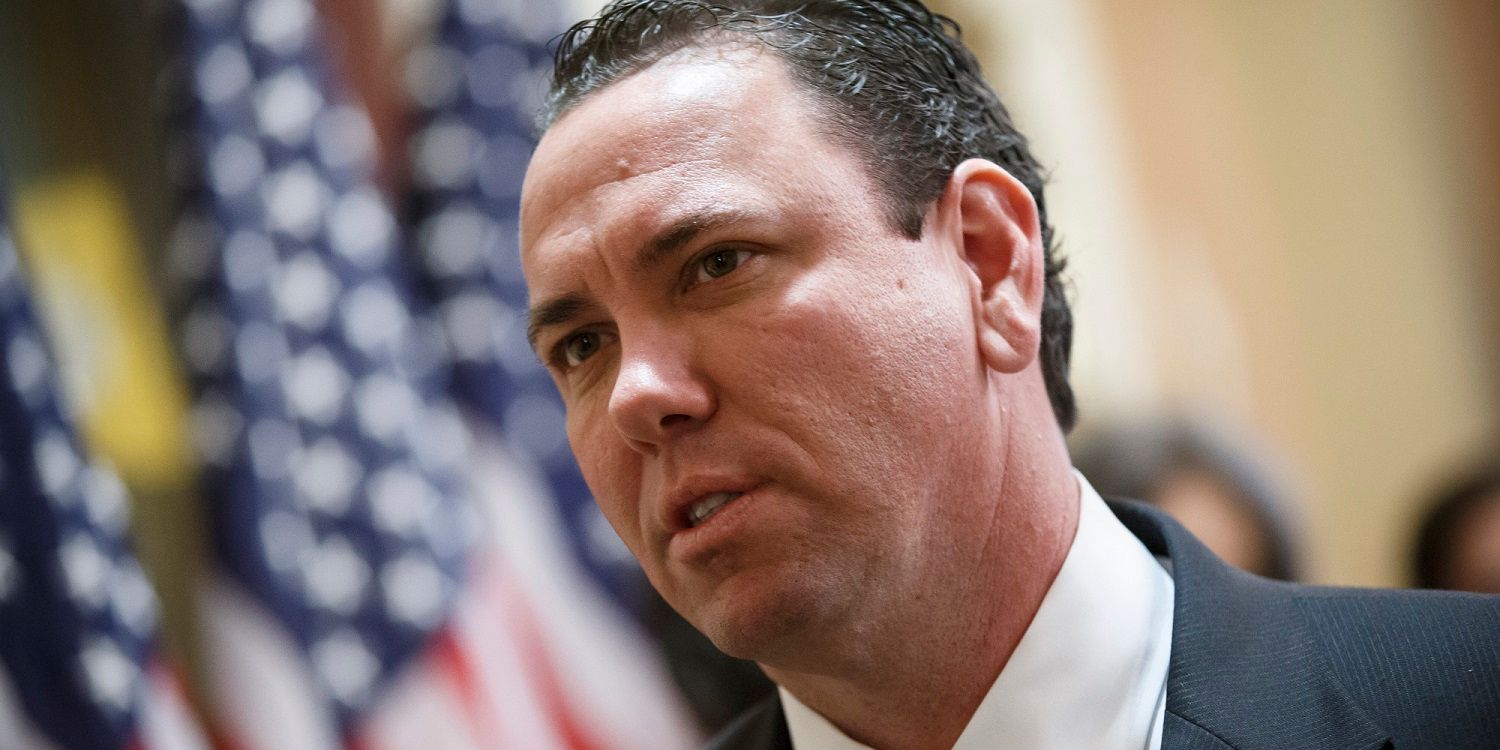 18. Josh Duggar
We can all remember when the allegations against Josh Duggar came out in 2015. First, it was revealed that he had inappropriately touched underage girls (including some of his sisters,) and then it was leaked that he had not one, but two accounts on the extramarital affairs website Ashley Madison. So far, Josh has been trying to keep a low profile, but his family is ready to speak out. His wife, Anna, said that Josh not only betrayed her, but his own Christian faith as well. Josh is also being sued by Danica Dillon, one of the women he had an affair with.
17. Justin Moed
Apparently politicians like to sext, too. Justin Moed is a state representative for Indiana in the United States. He was caught sexting with Sydney Leathers, who is reportedly the same woman who was getting busy chatting up Anthony Weiner (who is also on our list!) Wow, this girl gets around, and must have a thing for guys in a suit and tie. According to reports, Leathers said that Moed sexted her repeatedly with some pretty explicit messages, including his affinity for men of a certain race. What?! Also, it was said that Moed knew who Leathers was and all about her history with Weiner. So…why would he get caught up with her?
16. Mark Sanford
When governor of South Carolina Mark Sanford just seemed to drop off the face of the earth, people were super-confused. And why wouldn't they have been? After all, this guy was supposed to be helping South Carolina be great! Turns out he showed up in Argentina nearly a week later…with another woman. Uh oh! The two met years earlier and then started having consensual sex. Mind you, Sandberg was supposedly happily married at the time. Once his wife Jenny found out, she filed for separation. The "other woman" was an Argentine journalist, Maria Belen Chapur. This whole story is loco.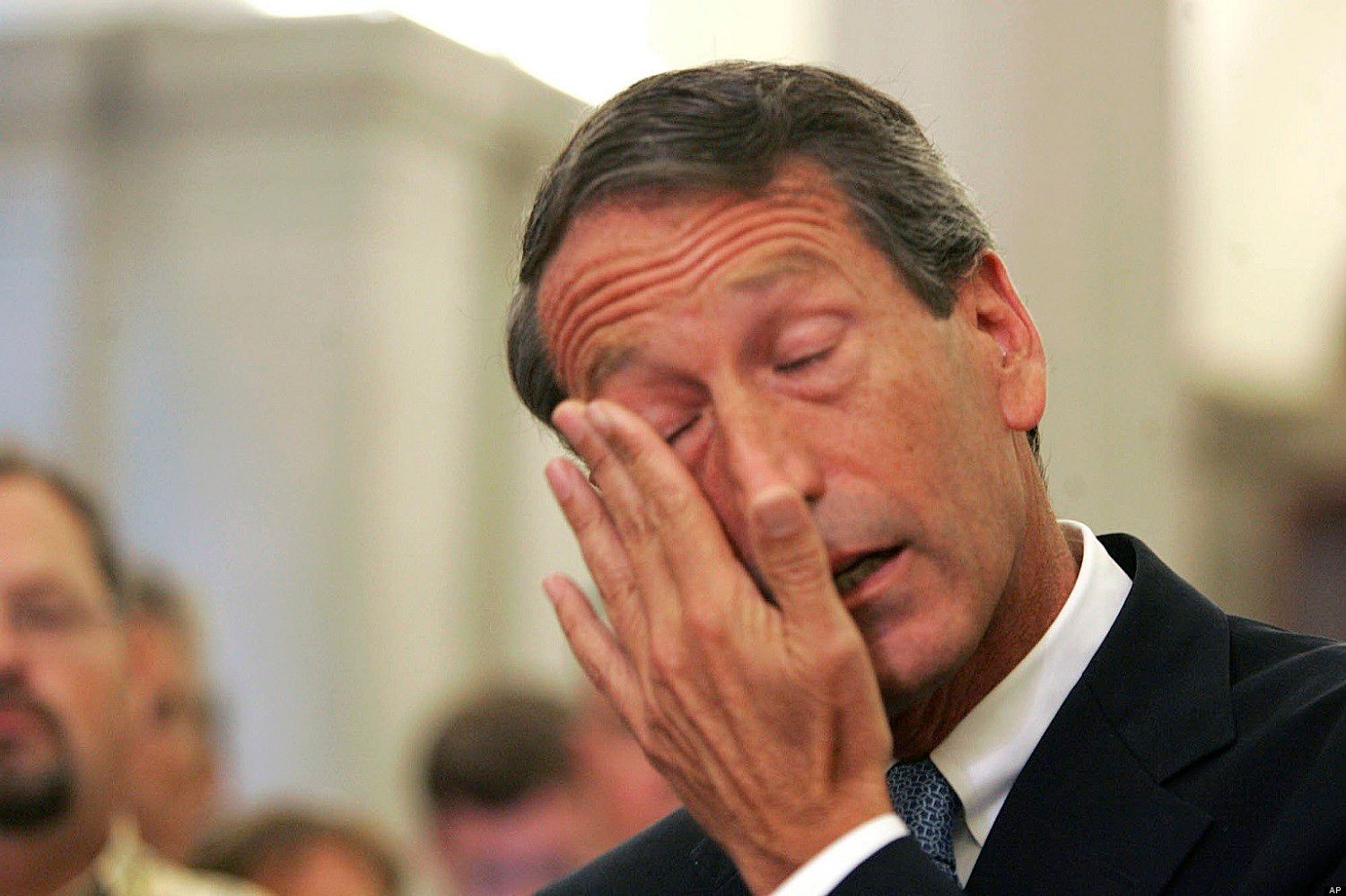 15. Dick Cheney
Dick Cheney's "hunting incident" occurred back in early 2006 when he was hunting for quail down in Texas. He ended up shooting a 78-year-old man, Harry Whittington in the cheek, chest, and neck. Good lord, what was Cheney thinking? His secret service posse ran to Whittington's aid and then the victim was flown to a nearby hospital where he suffered from a heart attack and atrial fibrillation from a pellet lodged in his chest near his heart. The ammo Cheney was using was so small and there were so many tiny pieces lodged in Whittington, that doctors resolved to just leave some of them there. In his body. Horror!
14. Gary Hart
Gary Hart was connected to a Miss Donna Rice-Hughes, whom he met at a New Year's party to welcome in 1987. Yeah, we're bringing it back here! Rice told Hart that she was totally into the whole fund-raising thing, and then Hart jumped into the race for the Democratic nomination for prez. Well, people started accusing Hart of being a womanizer, and maybe he just felt super-confident with who he was, because he invited the media to film his daily activities. After all, he had nothing to hide, right? Um, wrong. It was revealed that Hart was more involved with Rice than he let on. Even after photos were published of the two of them holding hands and vacationing together, both parties insisted that they were "just friends."
13. Bill Clinton
In 1992, presidential candidate Bill Clinton was a huge headliner in the national newspapers for his connections to a cabaret singer (and state employee in Arkansas,) Gennifer Flowers. Apparently, the two had been involved in an extramarital affair. It was hard to wriggle out of this scandal! There were telephone calls that were recorded and Flowers herself stated that she and Clinton had been involved with each other for a whopping 12 years. Clinton tried to shake it off and appeared on 60 Minutes; his wife even came on the show with him. Surprisingly, people all but forgot about it. Then, in 1998, Clinton admitted that there was a one-night stand between him and Flowers back in 1977.
12. David Vitter
Louisiana Senator David Vitter was caught in a big scandal a few years ago when he owned up to his sinful ways. He ended up becoming a sort of beacon of hope for other politicians, particularly those in the Senate. After all, if Vitter could come out of his scandal nearly unscathed, then maybe others could, too. It is true that Vitter's political career was back on the upswing after a few years on the down-low. He was linked to a prostitution ring and apparently had to work super-hard to rebuild trust with his family and friends. But it's a strange twist that he became sort of a hero.
11. Larry Craig
While Larry Craig was repping Idaho in the United States Senate, he was hit with a curveball: he was taken away in handcuffs after participating in some inappropriate behavior at the Minneapolis-St. Paul International Airport. While visiting the men's restroom, Craig began soliciting sex. As the story continued to unfold, other people stepped forward to say that they had engaged in oral sex with Craig on separate occasions. Oh snap. Although Craig pled guilty to disorderly conduct, he later said that he shouldn't have, because he really didn't do anything wrong and the authorities misrepresented him. Sure, Larry, sure.
10. Jim McGreevey
It was a scandal back when it happened in 2006, but these days it would be less of a big story. Anyway, democrat (and seminarian) Jim McGreevey came out as a gay man nearly 10 years ago. He penned a memoir, The Confession, in which he detailed his double-life as a good-values politician and a secretly gay man. He desperately longed for some action with other men, but was stuck in his public persona. Of course, he appeared on The Oprah Winfrey Show, and he eventually started a same-sex relationship with Mark O'Donnell. He began to minister to prison inmates as well.
9. Gary Condit
Gary Condit served in the House of Representatives for over a decade, but was hit hard by a shocking scandal. When a Miss Chanda Levy mysteriously vanished, Condit's name surfaced. Twice he adamantly denied that he was sexually involved with her; twice he told this to police. Third time's a charm, we guess. Police questioned Condit yet again, and he admitted to starting an affair with Chandra when she was 23 and he was…53. Gross! Police searched Condit's home after Chandra's family suspected him of knowing her whereabouts. That is when Condit was spotted with a gift given to him by yet another woman. Jeez.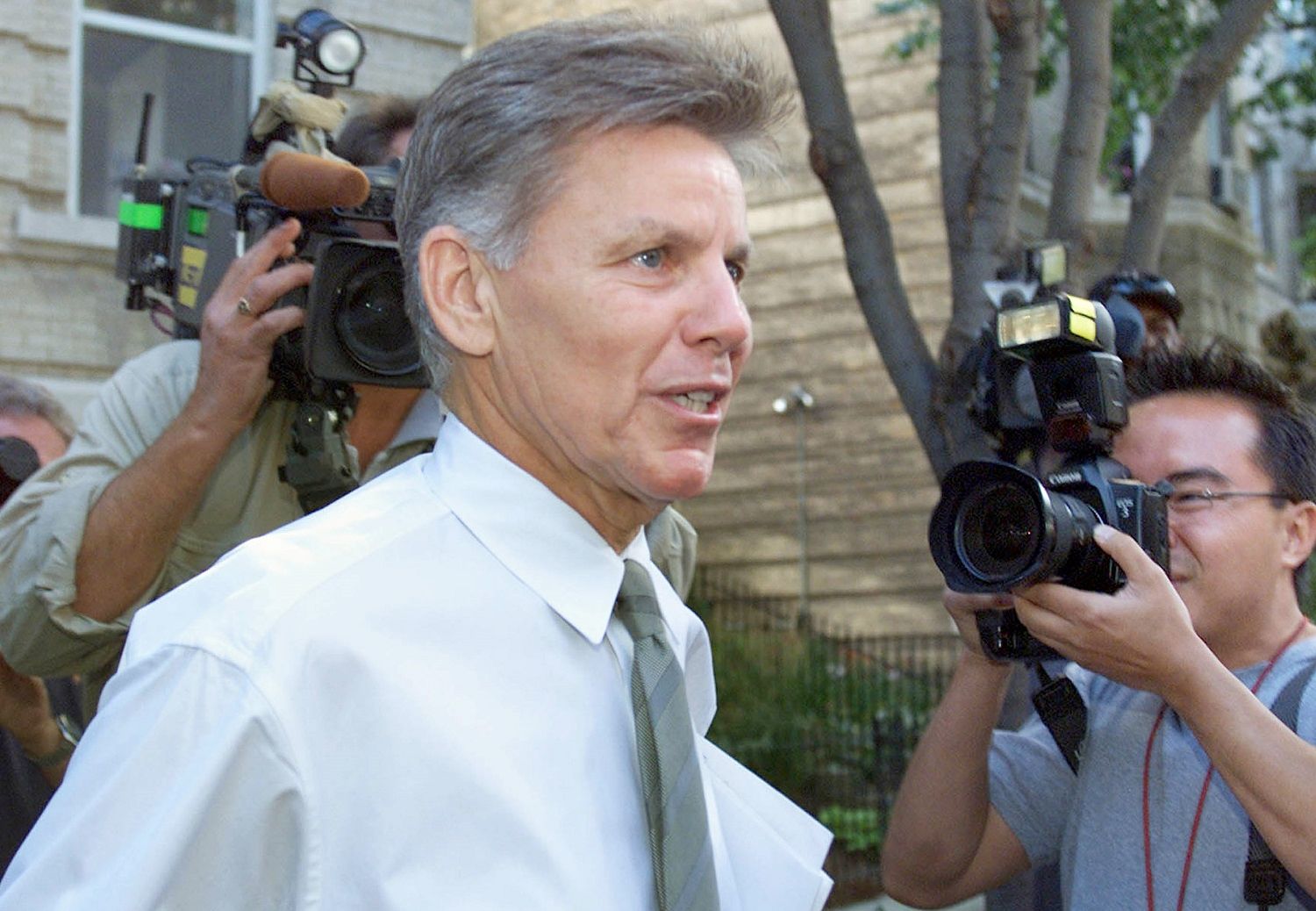 8. Anthony Weiner
Anthony Weiner was a New York representative for over a decade. Then, in 2011, he was linked to a sexting scandal in which he was taking racy photos of himself and posting them to the then-new Twitter social media site. The photos were sent to a specific woman, but it sure as heck wasn't his wife. Anyway, Weiner tried denying that he had sent those pics, and he insisted that he was framed or set up. But after about a week, he caved and admitted to sending photos and sexts to multiple women over the past three years. About a month later, Weiner resigned from his position in Congress.
7. Elliot Spitzer
Elliot Spitzer was caught in a nasty prostitution scandal in 2008. The governor had reportedly hopped on to an escort service overseen by Emperors Club VIP, a high-brow company. These were not prostitutes, per se; they were "escorts." Anyway, it was revealed that there were at least seven occasions when Spitzer was "escorted" by another woman, and he had run up a tab totaling about $80,000! Of course, other politicians were nay-saying him and demanded that he resign from politics. So, in March 2008, Spitzer resigned. One of the escorts, Kristin M. Davis, was sent to jail for four months.
6. John Edwards
John Edwards was yet another politician who was having some extramarital "fun" with another woman. His mistress was actually a 2008 presidential campaign aid named Rielle Hunter. This "other woman" became a huge figure in the media and started speaking out against Edwards' wife, Elizabeth, calling her "venomous" and a "witch on wheels." Ouch, this girl is feisty. On ABC news, Hunter said that she was a "mother" and she "fell in love with a married man." Hunter and Edwards ended up having a child together – oops! – but Hunter says that she does not regret it; she just regrets how it was handled.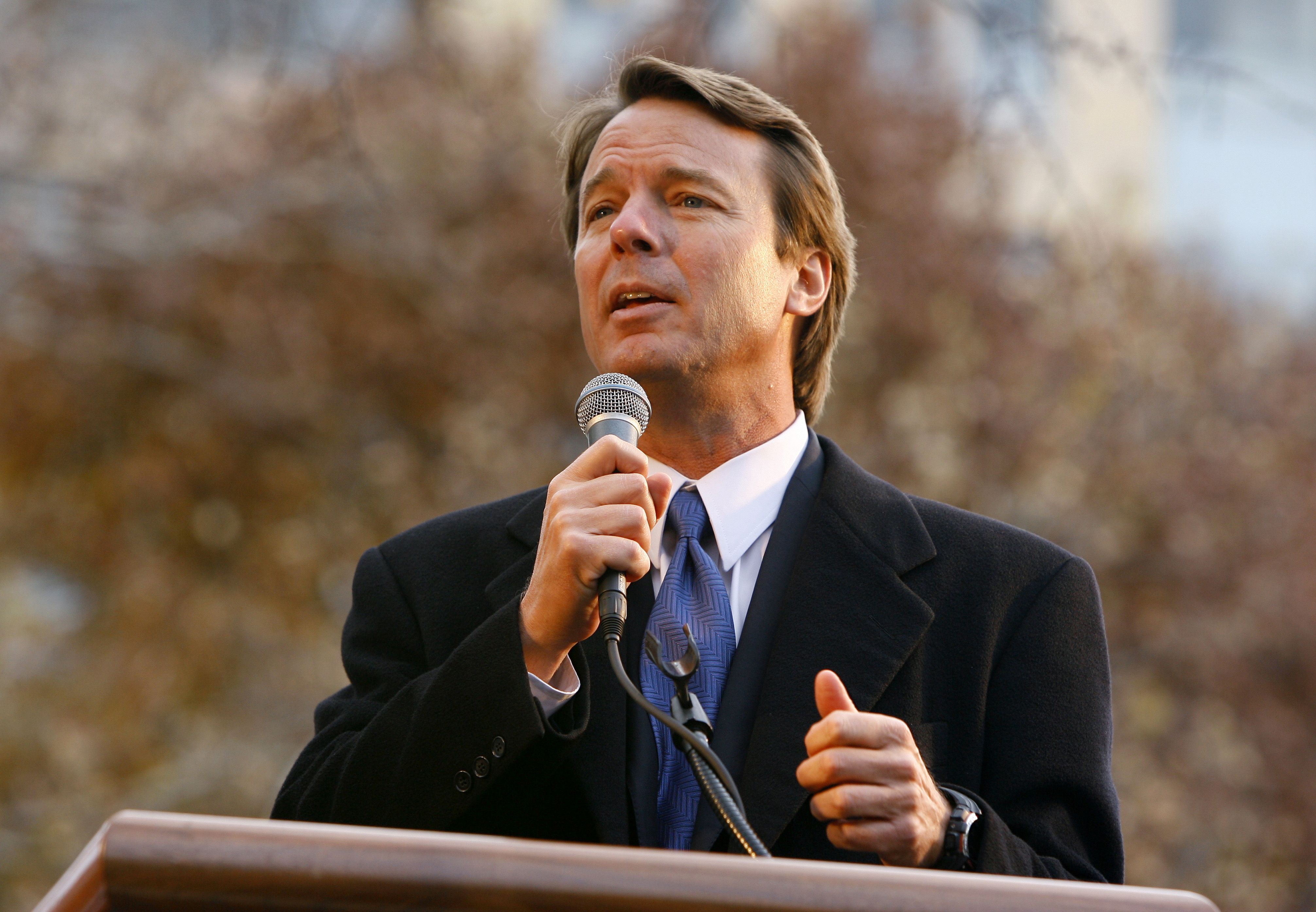 5. Marion Barry
Here is another politico who was caught up in the drug trade. Marion Barry was the mayor of Washington, D.C. He was taken away in handcuffs by police officers after he was found in possession of cocaine in a hotel. The FBI got involved, and of course, the paparazzi. Barry was arrested and charged with narcotics charges, and this was not even the first time he was wrapped up in drugs. His first allegation was in 1981. Needless to say, people in D.C. were up in arms. This was the nation's capitol, and by no means did they feel safe.
4. Ted Kennedy
Ted Kennedy's scandal came to be known as the Chappaquiddick incident. Sure, it sounds like a Hogwarts name, but this was serious business. It involved a car accident in which a young woman, Mary Jo Kopechne, drowned. The story is that Kennedy was driving the car when he maneuvered off a bridge, into a tidal channel, escaped the vehicle and swam to land, and then didn't tell anyone about the incident until 9 hours later. Hm, that's a bit suspicious. Kennedy ended up pleading guilty to leaving the scene. Yet he only had to serve 2 months in jail. Talk about favoritism.
3. Arnold Schwarzenegger
Oh man, we remember when Arnold Schwarzenneger's "housekeeper mistress" was revealed to the media. First of all, extramarital affairs are not cool guys, okay? Secondly, Arnie, you were married to Maria Shriver. She is an awesome lady, if we do say so ourselves. Anyway, Schwarzenegger and the mistress, Patty Baena, had a child together, who was kept a secret for years. Get this: the "love child" was born just 5 days after Schwarzenegger and Shriver's son Christopher was born! Crazy. 3 weeks after the love child was born, Baena divorced her then-husband, Rogelio de Jesus Baena. Shriver goes on the Oprah Winfrey Show and the rest is history.
2. John F. Kennedy
For decades, historians have been researching and studying the sex life of John F. Kennedy. That would sound really weird and creepy if he weren't a former President of the United States. Apparently, Kennedy got around, and one of his most famous flings was with Marilyn Monroe. Sure, the woman is gorgeous, but come on; Kennedy did not have to be a womanizer, did he? Well, the story is that Kennedy and Monroe were quite close. Who doesn't recall her rendition of "Happy Birthday, Mr. President," that she sang in 1962? If that wasn't alluding to something spicy, then we're at a loss.
1. Moshe Katsav
Here's the story: Moshe Katsav was the President of Israel. He was also accused of assaulting women and then he was sentenced to seven years in prison for rape. Yet Katsav had adamantly insisted that he was innocent, even though several women stated that he had sexually harassed them. The case depended solely on the testimonies of those in court, leaving many to say that Katsav was innocent and didn't deserve his sentence. This whole fiasco came to light in 2006 by Katsav himself. He went to police claiming that one of the women was trying to exhort money from him.